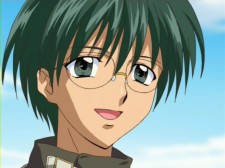 Masahiro is one of the main supporting characters of Mermaid Melody Pure and the main protagonist of the flim in Disney crossovers: Sebastian & Dory.
History
Masahiro is a flirtatious boy who has a crush on Rina. He rides on a motorcycle and he does some amateur boxing. He has a rich father who wants Masahiro to take over the company retires but he doesn't want too. He does boxing and motorcross for fun. He first appear in Mermaid Melody Pure episode 4. Masahrio goes to a elite school with his friends and his school is next to Rina, Luchia and Hanon's school. He was voiced by Kiyotaka Furushima,Mark X. Laskowski
Appearance
He has green eyes and his hair color is similar to Rina's except his hair is a little darker. He also wears glasses but usually takes them off when he's boxing or when he's stretching or warming up to box.
Gallery